The Lost Fathers 2: Stoning of St. Stephen is the sequel to The Lost Fathers.
Characters
Edit
Otto Osworth
Larry 3000
Buck Tuddrussel
Dreaded Guy
Customer
Rembrandt van Rijn
George Washington
Thomas Jefferson
Benjamin Franklin
Abraham Lincoln
Mike Orsini
B-Real
Ejesolh
Paul the Apostle
A preface for those unfamiliar with the cartoon Time Squad: The Time Squad consists of Buck, a burly space cop; Otto, a nerdy kid with an interest for history, and Larry, a robot. Living far in the future, they go back in time on missions to correct mistakes in history caused by free will.
INT. TIME SQUAD SPACE STATION 100,000,000 AD
The alarm for the Time Squad's latest anachronism sounds. Larry 3000 goes up to the computer. Otto is close behind.
OTTO What's our next mission?
LARRY The famed artist: Rembrandt.
OTTO You mean the Dutch Rembrandt Harmenszoon van Rijn?
LARRY That's right. We'll be going to Amsterdam in 1625, in which he'll be 19.
BUCK Holland? I'm not much into cheese, tulips, and clogs.
OTTO There's a lot more to the Netherlands than those things, Tuddrussel.
The three enter the station's time machine. Larry dials what is needed on the walled keypad. In a burst of lightning, they vanish.
EXT. ZWANENBURGWAL CANAL, AMSTERDAM 1625 – DAY
OTTO What is that stench in the air? There must be a skunk around.
Buck takes in a waft of the atmosphere.
BUCK Smells somewhat familiar.
A dreadlocked man approaches the group. Larry prepares to translate.
LARRY Waar is het huis van Rembrandt? (Where is the house of Rembrandt?)
Dreaded Guy (in English) Prolly at the coffeeshop he runs in his house. It's right on this street over there.
The Time Squad goes into the building.
INT. REMBRANDT HOUSE COFFEESHOP – DAY
OTTO My god it reeks. Is a skunk in this building?
A coffeeshop customer imperfectly overhears Otto.
CUSTOMER Oh, they got the skunk in this place that's for sure.
LARRY I believe he took the word in the non-literal sense, Otto.
The Time Squad observes the coffeeshop. Patrons spark their bowls, rip their bongs, and fire up joints and blunts, all in a haze of combusted plant matter.
BUCK Buck Tuddrussel of Time Squad. What're the whereabouts of Rembrandt, hippie?
CUSTOMER Hey chill man. He's in the back room, most likely trying to make the first in a series of planned great paintings.
The customer directs the Time Squad to the back room. They see a young man sitting before a mostly blank canvas.
OTTO Rembrandt van Rijn?
REMBRANDT That's right kid.
Larry's arm beeps. He opens it and looks at the screen inside.
LARRY There appears to be another recent unraveling in the rope of time. It started around the American Revolution and is affecting everything henceforth. The prohibition of cannabis now goes against their constitution.
REMBRANT Damn that's awesome. Still, I can't see how it could ever be outlawed.
BUCK We should just leave it to another Time Squad, if one would even care to fix that.
OTTO I say it's still worth checking out what's up there, but we shouldn't just leave Rembrandt.
LARRY I'll leave you two here. I should return shortly.
Larry punches some buttons on the keypad on his wrist and transports himself to 1776.
INT. PENNSYLVANIA STATE HOUSE, PHILADELPHIA JULY 4, 1776 - DAY
The Second Continental Congress is about to adopt the United Bros Declaration of Independence.
GEORGE Hey Ben, you got on idea for a capital other than Philly?
THOMAS I know just where to put it.
A thunderbolt sparks in another room.
BEN Kevin Orsini? Is that you?
The all-star trio steps through the doorframe.
LARRY I am Larry 3000. I come from the future where bacon is good for your heart. I was wandering as to why the Declaration says "Life, Liberty, and the pursuit of Cannabis" as opposed to the pursuit of Happiness. Also, United Bros? Really?
THOMAS Isn't that pretty much happiness?
GEORGE Tom had the idea before, but we all agreed to do it following a crazy venture to the year twenty-ten.
BEN It would have become illegal for almost a century otherwise. We couldn't have allowed such violations of civil liberty.
LARRY I should go to that time and see what America has turned out like.
BEN May we please join you?
THOMAS I'd love to see the utopia it should be then.
LARRY I'm hesitant, but suppose you guys deserve to find out.
INT. REMBRANDT HOUSE COFFEESHOP 1625 – DUSK
BUCK So, what are you trying to paint?
REMBRANDT Something pertaining to Saint Stephen the Protomartyr.
OTTO Do you need any inspiration?
Rembrandt prepares rolling a fat J.
REMBRANDT I think I got enough of that. You guys lookin' to throw down?
OTTO Well…
REMBRANDT Aw hell. I'll smoke you up. You guys don't look like you've been to Amsterdam before. Well, maybe you, space cop.
Rembrandt lights the fire. After taking a 5-second drag of the joint, it gets passed to Buck.
OTTO You're into this stuff, Tuddrussel?
BUCK Never killed a soul for over 100,000,000 years.
Buck offers the shit to Otto.
REMBRANDT Try it. You'll like it. Stimulate your mind.
OTTO Oh fine. Give that to me.
Otto's very first toke knocked him out on his ass.
OTTO Oh fuck. Why's my heart going so fast?
REMBRANDT Just relax. That Zwanenburg Kush is just getting into effect.
EXT. LINCOLN RESIDENCE, SPRINGFIELD, IL 1865 – NIGHT
Sitting on his front porch, Abraham Lincoln smokes a sweet hemp pipe and plays his German Hohner harmonica.
ABRAHAM (writing letter to Hohner Harmonica Company) Two of my favorite things are sitting on my front porch and smoking a pipe of sweet hemp, and playing my Hohner har…
A large disk-shaped object soars in the sky through Lincoln's vision.
ABRAHAM What in God's name is that?
The flying object lowers and goes around the corner of his house.
ABRAHAM MY CROPS!
Abe rushes to his cannabis field as the saucer hovers over it. A green aura beams out of the craft that levitates his plants by the soil into it.
ABRAHAM NO YOU BASTARDS!
Lincoln sprints closer to the vessel before it leaves, but gets sucked into the aura.
INT. VOEDSELPLAATS RESTAURANT, AMSTERDAM 1625 – NIGHT
BUCK I cannot handle any more food.
OTTO Me neither. Hey Rembrandt, isn't your first work one that involves some sort of punishment?
REMBRADT That's it! I know exactly what to do now! Quick, we must get back to my quarters.
EXT. VEGAS DC, UNITED BROS OF AMERICA JULY 4, 2010 – DAY
THOMAS Check it out. Citizens are celebrating the forth by partying in the streets and blazing up!
LARRY Yes, but is this the future you were envisioning?
GEORGE Pretty much, yeah.
MIKE Holy shit it's the three fathers! How'd you guys get here?
BEN (pointing at Larry) This guy.
'DISTANT STAGE (echoing) To da one on da flam Boy its tough I just toss that ham in the fryin pan
MIKE Cypress Hill's got an Independence Day bash going on.
The five head towards the stage. There, they dive into the sea of humans getting their toke on, not that plenty weren't on the way.
THOMAS See Larry? This country is the shit now.
BEN You got some bud, Thomas?
THOMAS You got a piece, George?
GEORGE You got one of those automatic fire makers, Mike?
THOMAS, GEORGE, AND MIKE (simultaneously) Ja. (Yes.)
They all roast the cheeba. At the end of "Insane in the Brain", an announcement is made.
B-REAL I want those founding father motherfuckers and their friends up on this stage.
They all go on stage. B-Real lights up a footlong joint. The group starts playing "Light it Up". B-Real passes it the George, and so on. Larry was unable to partake, though everyone else blew their toke at him.
LARRY I guess this place isn't so bad after all.
A UFO approaches the performance. The audience starts running away in mass panic. Larry, George, Thomas, Ben, Mike, and B-Real get abducted by a green beam. The ship flies off into space.
INT. SPACESHIP IN SPACE
MIKE Abraham Lincoln?
ABRAHAM Thank God some other humans are here.
An alien emerges from a shadowed corner.

EJESOLH My name is Ejesolh. I'm a chief intergalactic spacetime explorer from the faraway, at least by your standards, planet of Omichron 42. Our planet's been keeping an eye on Earth for over two millennia. Along the way, we've learned most of your kind's major languages.
ABRAHAM Return my ganja plants at once!
EJESOLH I don't believe that is possible. Regularly we of the Omichronian race must collect it, for the atmosphere on our planet contains a chemical rending the growing of cannabis undoable both indoors and out.
LARRY It's no wonder Earth always depicts aliens as green.
EJESOLH Yes. Now, there's something I'm better off revealing to you.
Ejesolh's green skin melts away like Raiders of the Lost Ark. Someone far more human looking takes from.
MEZZOFANTI I am actually what Earth knows as Giuseppe Mezzofanti. I came there in this form in order to become the great hyperpolyglot I am known for.
LARRY Otto would sure love to be here.
B-REAL What the hell is going on right now? Fuck, let's all get high across the universe.
MEZZOFANTI I have just the right orange bong for doing so.
The interstellar blaze session, which soon turned into a party, started getting out of hand. Some person, or persons aboard, press(es) something that causes the craft to enter hyperspace.
EXT. JERUSALEM 34 AD - DAY
Mezzofanti's ship nearly crashes down. Everyone steps out. In the distance is one free man and another held captive.
MEZZOFANTI I'll translate the Aramaic.
THOMAS What are you doing?
PAUL Saint Stephen is to be stoned to death for his acts of blasphemy.
B-REAL Stoned as in rocks?
PAUL Correct.
ABRAHAM Hey man, just hit this shit.
PAUL You're the Abraham? (mumbling, untranslated) The great Patriarch?
ABRAHAM Yup, and I demand that instead of stoning him, you should get him stoned.
BEN (to George) That could still be considered torture if he passes out from it.
GEORGE (to Ben) True, but it's far more humane.
MEZZOFANTI Use this.
Afterwards, Larry drops everyone off in their proper places and times, then returns to Amsterdam.
INT. REMBRANDT HOUSE COFFEESHOP 1625 – DAWN
REMBRANDT Behold my masterpiece! I call it The Stoning of St. Stephen.
BUCK You fucking nailed it.
OTTO Excellent piece of art, Mr. van Rijn.
LARRY Well, it's quite an accurate one.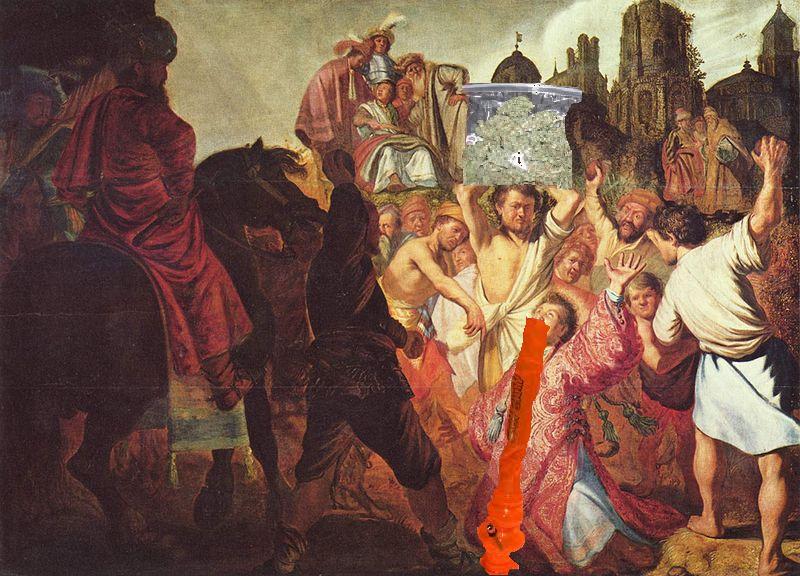 Community content is available under
CC-BY-SA
unless otherwise noted.